Dane and Anna went to the Williamston Elementary Daddy/Daughter Dance again this year. Just like last year he picked her up and got her a corsage and then they went to dinner first. Dane sent me a text message halfway through dinner... it went like this.
Anna: Daddy, how long are we going to be at the daddy/daughter dance?
Dane: About and hour or so.
Anna: Okay, let's go.
Dane: But we still have food to eat...
Anna: Dad, we can eat when we get home. Right now we gotta get DANCIN!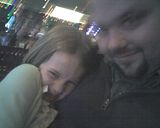 (these were taken from a camera phone)